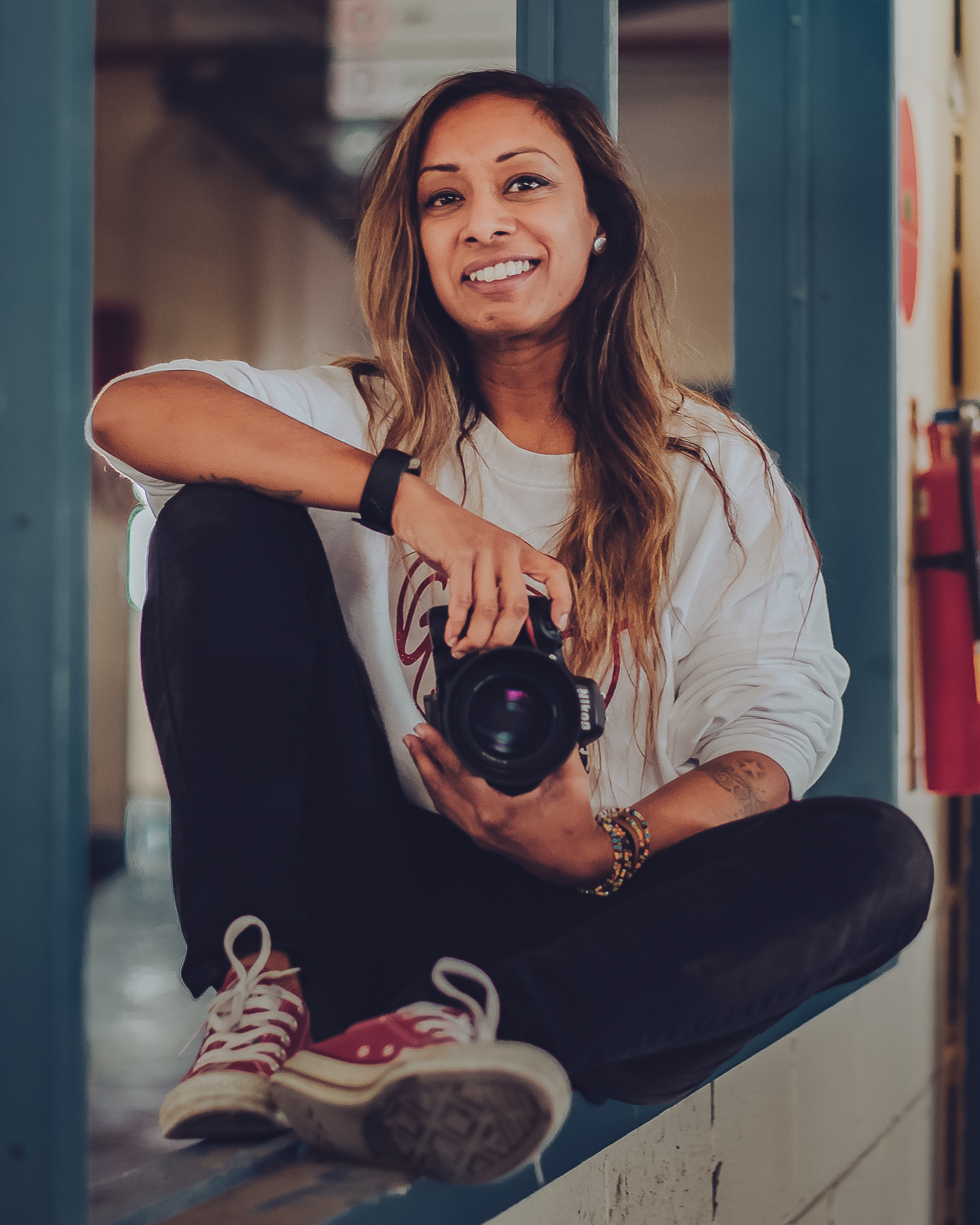 I believe in living life to the fullest, through enjoying the little moments with an unbridled enthusiasm for meaningful experiences. Sometimes this means going for a swim in a lake, or the ocean, or the absolute freedom of cycling along an open country road. Sometimes it's dancing to music that feels like it's pumping through my veins. Sometimes it's connecting deeply with other human beings, and sometimes it means eating an entire pizza by myself while binge watching Netflix. I'm always excited about life and all that it has to offer. I believe that this helps me find inspiration in everything I choose to document through my photographs.
I work for clients in and out of the city, and sometimes I'm lucky enough to travel to other cities and countries to document weddings, events and projects. Creative expression had always been a part of my life, but became my work life about eight years ago when I realized I was unhappy with my corporate job and the direction my life was taking. I was caught up in the 9-5 and doing the same thing day after day, living for the weekends and dreading Mondays. One day I decided I just couldn't do it anymore, quit my job and decided to rekindle my relationship with my camera. What started out as a terrifyingly uncertain pipe dream has turned into my actual dream job, and I am so incredibly happy to be doing what I love every single day.
I love that my work allows me to connect with amazing people, learn their stories and then have them trust me to communicate these to the world. It is a dream to be able to make beautiful photographs that compel and inspire others. I am thankful for the many opportunities through which I am able to use my skills and creativity to help others bring their vision to life.
Amy
Greenwin Inc.
You rock. PERIOD. I hope you're not tired of me saying this because I will continue to tell you how much you rock as long as you are willing to work with us. We adore you. Thank you for shooting another event of ours.
Jen + Chris
Sharon was hired to do our wedding and engagement photo shoot in downtown Toronto. She made us feel very comfortable and the session was so much fun! She was focused on her task while enjoying the moment with us! My fiancé and I really enjoyed our day. Our photos turned out simply amazing, and we are both very excited to see how our wedding photos turn out!
Stu + Rebecca
We hired Sharon to photograph our son's Bar Mitzvah and were super impressed. She was easy to work with, focused on capturing all the right moments at our event and followed up quickly with the images. She captured a nice blend between traditional and candid shots and made our family feel at ease through the process. I highly recommend Sharon Mendonca for any event you need a photographer for. We are already in the planning stages for upcoming events and look forward to hiring her again!
Danielle
Working with Sharon in capturing our sons Bar Mitzvah was an absolute pleasure! She was open to suggestions for some formal images and she had an amazing eye for candids! She was professional throughout, has a strong work ethic and had a unique ability to "see" the image she wished to capture, without making the process feel forced. Looking forward to using Sharon again to capture or next big life events.
Shawna + Warren
Sharon was absolutely amazing on our wedding day! Half the time we didn't even know she was there, as she captured the most amazing pictures, and when we did know, she was giving us great direction and didn't waste time, allowing us to get back to the party! She was a pleasure to work with, very professional, and got us our photos on a timely manner! Would highly recommend her for your special day!
Grace
Sharon took photos at my daughter's baptism. My husband and I are so happy with the service she provided us with. The pictures she took turned out amazing. We will definitely recommend her to all our family and friends. Thank you Sharon for providing us with such a great experience and photos that will remind us of the special day forever!
Rachel + Aron
My wife and I had Sharon shoot our wedding, and we were extremely happy with the results! Our wedding was out-of-town, and Sharon had no problems accommodating the travel. She was punctual, friendly, and had some really great ideas to make sure we captured all the memorable moments from our special day. I would definitely recommend her to family and friends (in fact, my brother has already hired her for his wedding!).
Sharon was a pleasure to work with!
Sarah + Mohamed
Sharon is a gem! Not only was she super understanding with our last minute plans but she went above and beyond to make my husband and I's photos timeless. She's super approachable, caring, and her passion for photography makes the whole experience incredible. Sharon, you have a distinct talent! My husband and I will definitely be having her capture our other moments to come in the future! We can't thank you enough!
Maria
It has been such a wonderful experience to work with Sharon. She is very professional, patient, has great quality of work and knows how to capture all the important details to create beautiful memories to last a life time. Love the energy and perspective she brings when she covers an event. We will definitely recommend her to family and friends. Looking forward to working with her again very soon.
Dorian
It was wonderful to work with Sharon. Excellent quality, service and communication. I have hired her for three family functions already and will definitely continue to call her to capture future memorable moments!